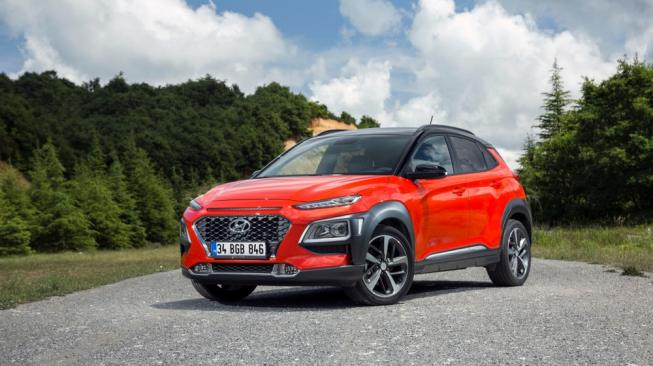 Suara.com – Berlangsung di Cobo Hall, Detroit, Michigan, Amerika Serikat , The North America International Auto Show ( NAIAS ) 2019 adalah salah satu event paling bergengsi di benua Amerika selepas tahun baru. Senada yang digelar di Britania Raya, bertajuk Autosport International 2019 . Keduanya hadir untuk publik dalam waktu berdekatan di awal tahun.
Untuk NAIAS 2019, selain memajang aneka produk konsep, produk baru versi massal dan terbatas, bermacam produk after market dan pendukung kendaraan, tersedia pula panggung untuk memberikan penghargaan kepada produk terbaik.
Pada pergelaran tahun ini, Hyundai Corporation meraih penghargaan bergengsi. Dikutip dari kantor berita Antara, acara dengan panel juri independen terdiri dari jurnalis serta analis otomotif Amerika Serikat dan Kanada, telah sepakat memilih Hyundai Kona sebagai "2019 North American Utility Vehicle of the Year" dan Hyundai Kona Electric Cross over Utility Vehicle (CUV), untuk sektor "Utility and Truck of the Year".
"Kona adalah CUV kompak dengan harga terjangkau, penuh gaya sekaligus fungsional. Mampu menyesuaikan kebutuhan pengguna dengan gaya hidup aktif di segala bidang," demikian papar Brian Smith, Chief Operating Officer Hyundai Motor Amerika, saat menerima penghargaan tadi, seperti dikutip dari laman resmi Hyundai, Selasa (15/1/2019).
Sebagai catatan, baik Hyundai Kona maupun Kona Electric diproduksi menggunakan platform CUV dan bertujuan hadir sebagai wahana fungsional untuk memenuhi gaya hidup aktif para penggunanya.
Hyundai Kona sendiri saat ini tengah bersiap-siap menghadirkan kejutan bagi para penyuka Marvel Comics lewat rencana bakal meluncurkan edisi terbatas Hyundai Kona Iron Man, sedangkan Hyundai Kona Electric memiliki kemampuan menempuh jarak lebih dari 415 km untuk satu kali pengisian penuh daya baterai.
NAIAS 2019 memang pentas di mana Hyundai Kona serta Kona Electric mampu menyabet banyak penghargaan.