Suara.com – PT Mitsubishi Motors Krama Yudha Sales Indonesia (MMKSI) menggelar event penutup ' Xpander Tons of Real Happiness ' atau Xpander ToRH pada 25 -27 Januari 2019 di Summarecon Mall Serpong, Tangerang.
Pada event ini, komunitas pecinta Xpander yang tergabung dalam Mitsubishi Owner Club Indonesia ( X-MOC) menggelar kegiatan "Tour de Happiness" pada Sabtu kemarin (26/1/2019).
"Tour de Happiness" yang diselenggarakan dengan tema "Raih Kebahagiaan Bersama Xpander mu", merupakan sebuah aktivitas dengan konsep city touring. Kegiatan ini setidaknya melibatkan lebih dari 350 mobil Xpander milik peserta yang hadir dari berbagai wilayah di sekitar Jabodetabek dan kota lain seperti Bandung, Cirebon, Cilegon, Serang, Sukabumi dan Purwakarta
"Tour de Happiness" dimulai dari titik start, diler kendaraan penumpang Mitsubishi yang tersebar di berbagai area Jabodetabek. Sebelum menuju titik finish di lokasi ToRH Summarecon Mall Serpong.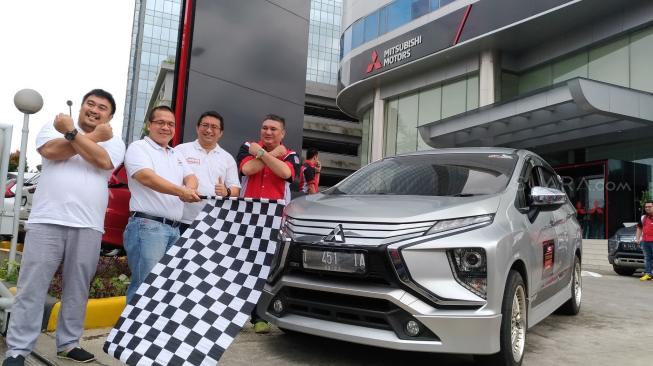 Mitsubishi Owner Club Indonesia ( X-MOC) menggelar kegiatan "Tour de Happiness", di Tangerang, Sabtu (26/1/2019). [Suara.com/Manuel Jeghesta]
"Melalui Tour de Happiness kami ingin memberikan kontribusi dan support terhadap aktifitas XPANDER Tons of Real Happiness yang dipersembahkan MMKSI untuk keluarga Indonesia. Lebih dari 600 orang akan hadir beserta keluarga untuk menikmati wahana maupun acara yang disajikan di Xpander ToRH," ujar Sonny Eka Putra, Ketua Umum X-MOC, di Serpong, Sabtu (26/1/2019).
Di event Xpander ToRH juga ditampilkan enam unit Mitsubishi Xpander yang menjadi kebanggaan dan sarana kreatifitas pemiliknya sebagai anggota X-MOC khusus dalam hal modifikasi eksterior dari yang ringan hingga modifikasi ekstrim yaitu Xpander dengan Air Suspension.
"Semoga acara seperti ini akan terus diadakan oleh pihak Mitsubishi Motors Indonesia termasuk program-program terbaru dari MMKSI selaku ATPM khusunya XPANDER untuk bisa memberikan sinergi yang baik antara customer dengan pihak ATPM," harap Sonny.