Suara.com – PT Yamaha Indonesia Motor Manufacturing (YIMM) mengawali 2019 dengan meluncurkan Aerox 155 VVA S-Version, dan MX King 150 bertema Doxou .
Doxou sendiri adalah istilah dari bahasa Jepang, "dokusou", yang memiliki arti originalitas dari sebuah karya. Pengertian ini menjadi landasan dasar dari pembuatan konsep Doxou Version pada Aerox dan MX King.
Alhasil, baik Aerox dan MX King 150 yang dibalut dengan tema ini memiliki tampilan berbeda, tampak menarik dalam kolaborasi permainan warna Matte Blue dan Sakura Copper.
"Kami mengawali 2019 ini dengan dua produk sekaligus, yaitu Aerox 155 VVA S Doxou Version dan MX King 150 Doxou Version yang memiliki perpaduan warna Matte Blue dan Sakura Copper," jelas Yordan Satriadi, Deputy GM Marketing YIMM.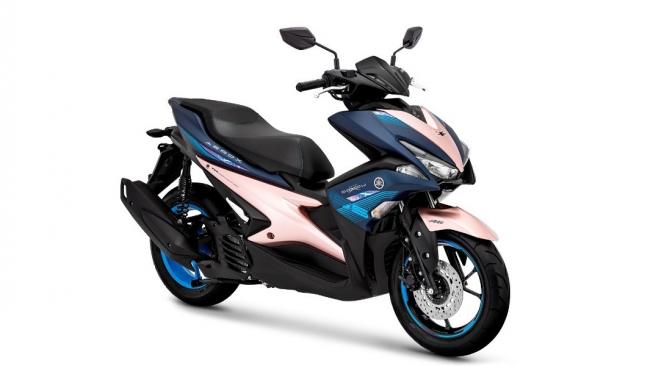 Yamaha Aerox 155 VVA tipe S Doxou Version [YIMM].
Ia menambahkan, sepeda motor dengan perpaduan warna unik ini merupakan hasil inovasi dan kreativitas Yamaha dalam memanjakan konsumen, khususnya kalangan muda.
Yamaha mengklaim dengan konsep PLAY-MIUM, akronim dari Playful and Premium, Doxou Version merepresentasikan gairah dan semangat kaum yang tidak pernah puas.
Dan asyiknya lagi, dua produk itu tidak hanya untuk pasar Indonesia, namun dipasarkan di empat negara Asia Tenggara, yakni Malaysia, Vietnam, Filipina, dan Indonesia.
Untuk urusan harga, Yamaha memasarkan Aerox 155 VVA tipe S Doxou Version seharga Rp 27.650.000 dan MX King 150 Doxou Version Rp 23.200.000 berstatus on the road Jakarta.
Kedua produk ini mulai didistribusikan ke diler-diler Yamaha di Indonesia mulai pertengahan Januari 2019.